Imagine The Very Next Speech
You Write, Rehearse & Present...
Being Powerful - Dynamic - Motivational...
And You Write Your Speech in 30 Minutes or Less
(The Practical And Easy-To-Implement Guide Below Will Get You To YOUR Goal!)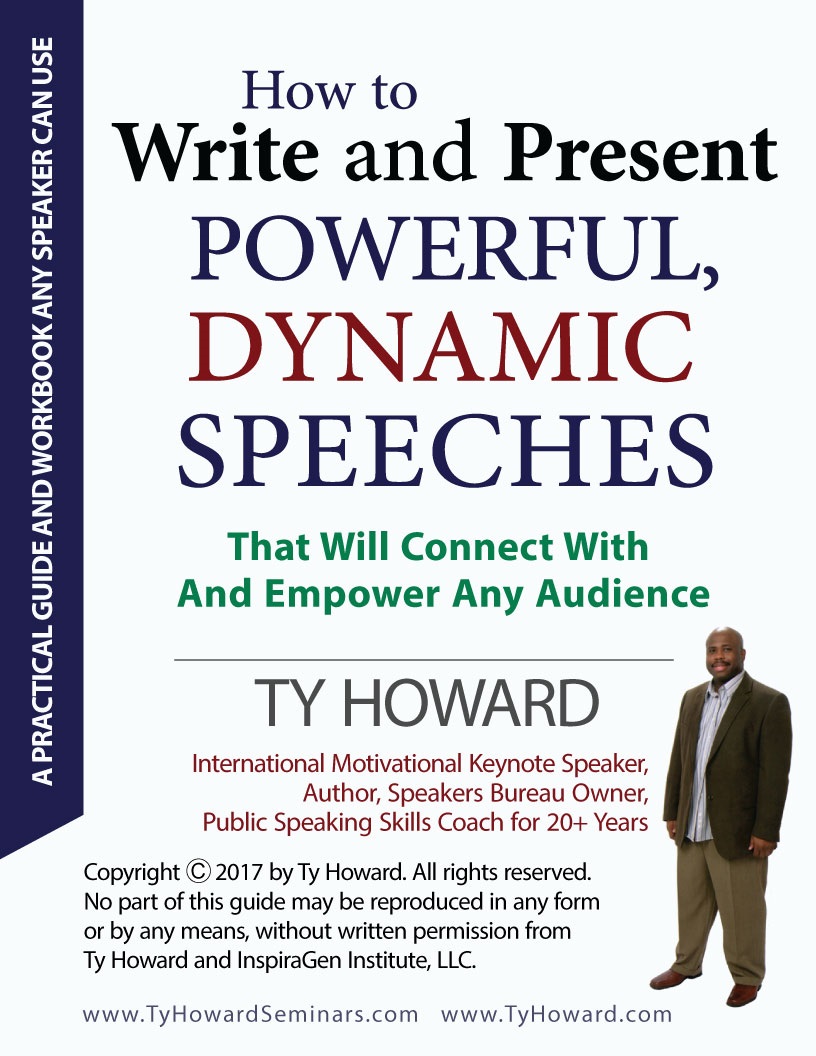 ( This is an eGuide Product: Meaning, you will be able to download this product to your computer immediately after purchase. All sales are final. )
Dear Motivators and Aspiring Motivators:
I think, persuasive speech is the most important speech of all. Persuasive messages are needed every day by every one. The purpose of a persuasive speech is to make the audience act as you request. An audience will only take action when we are able to win their minds, hearts and trust.
The process of writing a speech to present in front of a small or large audience is a very frightening experience for most. Based on ongoing studies throughout time, more people rather die than stand to deliver a speech.
However, if you are armed with a Powerful, Dynamic Motivational Speech, it will end up being a pleasurable experience instead of a frightening one. So, whether you want to motivate a group of teens with "The 3 R's of Life: Respect, Restraint and Responsibility," or attempt to get employees to work as a unified team throughout a new project, listen up.
It all starts with the Audience, Purpose Identification, Preparation, Practice and Commitment!
WANT YOUR MOTIVATIONAL SPEECH TO CONNECT WITH THE AUDIENCE?
WANT YOUR MOTIVATIONAL SPEECH REMEMBERED?
WANT TO LEARN FROM SOMEONE WHO CARES ABOUT HOW YOU ARE RECEIVED?
WANT TO LEARN FROM A PAID PROFESSIONAL MOTIVATIONAL SPEAKER?
If you answered, "YES! YES! YES! YES!" Here's where you can learn what I, Ty Howard, fulltime International Motivational Speaker has to offer you in my informative and easy-to-implement guide.

STOP... It's Hard To Write A
Powerful, Dynamic Motivational Speech... Isn't It?
It could take days, weeks or months to put together the right combination words, quotes, stores and transitions together if you don't have the right compass to guide you. Before you know it, it will be time to speak before the audience and you're still unsure about what you're planning to say.
But instead of working like a dog, trying to come up with a motivational style and content that works. Learn the importance of reflecting and using what's already inside and around you. It's really that simple.
Can I Use This Guide To Write The Type Of Speech
I Need To Write & Present?
YES!!!
This guide is a great resource tool for writing the following speeches:

Motivational Speeches
Business - All Staff or Employee Award & Recognition Speeches
Sales - Kick-Off, Rally or Retreat Speeches
Graduation or Commencement Speeches
Orientation Speeches
Welcoming Speeches
Informative Speeches
Toastmaster Speeches
Leadership Speeches
Team Building Speeches
Customer Service or Call Center Group Speeches
Job & Workforce Development Group Speeches
Retirement Speeches
Inspirational Speeches
Addiction Treatment & Recovery Group Speeches
Fundraising Speeches
Youth Development & Skills Speeches
Not-for-Profit Organization Promotion Speeches
Good Quality Speeches.
What Others Have to Say About the
"How to Write and Present Powerful, Dynamic Motivational Speeches" Guide:

(These are just a few of the many DOCUMENTED comments we've received over the past six months...)
"Our commencement speaker for the high school where I work called three days before the commencement date, and cancelled due to a schedule conflict. The school principal turned to me and said, 'Guess what? You're now the commencement speaker for our graduation ceremony.' I went to the Internet found Ty's guide online doing a random search. I will and can say with much enthusiasm, 'I WAS A HIT!' This guide works! It's still working for me four years later."

Tamika Harris,
11th Grade High School Teacher, San Diego, CA
"Ty Howard is not only a dynamic and powerful motivational speaker and a great teacher of the motivational speech craft, he's a motivational doer. He lives and breathes what he does successfully for a living. His learning systems and materials will help you cut at least five years off of your learning curve."

Bill Murphy, Westminster, MD
"My sales manager became seriously ill one week before our annual sales retreat. She called on me, of all people, to deliver the opening motivational sales rally keynote speech. I freaked! I went to bookstores, friends, Toastmasters etc. All were helpful; however, the information was either too much too read, too much to absorb, or vague. Did a search online with four days left to the sale retreat, and I found this guide. I spoke with Ty personally and he agreed to fax it to me that day after I purchased it. Within 20 minutes, I had my 25 minute motivational speech outlined and ready to practice. Purchase Ty's motivational speech development guide today and you will be glad you did. I knew how to sell... I knew how to speak to people one-on-one in a motivational and positive way... what I did not know was how construct a dynamic motivational speech that would have all listening, sitting on the edge of their chairs wanting more. Now I know! Thank you again Ty."

Stephanie Popular,
Founder and CEO, Face-2-Face Business Network, Baltimore, MD
"I'm a head coach of one of the little league football teams in the town I live in. My football team made it to the state finals. They were terrified of playing the team who has won the championship for the past five years. I wanted to and need to give them a really good and dynamic motivational speech. A GREAT pep talk. I found Ty's guide online and I couldn't put the guide down once I received it. It made speech writing and delivery as easy as 1-2-3. My little league team, the underdogs, upset the five time champions. Who knew!"

Keith Lewis
"Point blank... if you're serious about succeeding at the lectern, podium or on the platform as a motivational speaker, purchase Ty Howard's motivational speech development guide today! You can thank me later. Thanks Ty!"

Aaron Robertson, Atlanta, GA
"Our corporation went through two tough waves of layoffs and restructuring. The morale was low and the tension was so thick you could cut it with a knife. The CEO held an "All Hands Meeting" to listen to, calm and motivate the remaining staff moving forward. I assisted the CEO in finding materials to aid him in putting together his 60 minute "All Hands Motivational Speech". I found and collected nine different resources. The best resource, bar-none, was Ty Howard's 'How to Write & Present Powerful, Dynamic Motivational Speeches Guide.' The CEO won the staff over, morale ramped up and there are brighter days moving forward. If this guide isn't a part of your motivational speech development library already, it should be."

Mike Wagner,
Senior Vice President of Marketing, System Sources Worldwide, Inc.
It Doesn't Matter Who You Are Speaking To -
You'll Find Proven Tools & T.I.P.S. In This Guide
That Will Make Your Dynamic Motivational Speech
Writing & Presentation Experience
Quick, Easy & Fun...
No off-the-shelf book or manual can possibly provide the kind of tools and practical speech development strategies that come with this guide. Meaning, in a short-sweet-and-to-the-point layout. So don't go expecting the kind of tutorial that you might borrow from your local library. This guide concept is absolutely new and you won't find this information in a dull old speech writing book.
You won't produce an 'powerful, dynamic motivational speech' using those outdated, stale ideas -- just copying them out of the book will bore most audiences to tears!!!
And your speech will still be H-A-R-D W-O-R-K to put together...
The old speech development approach might make you feel worthy. But that's just because you'll spend too much of your valuable time rehashing dreary old speech writing concepts - but I can guarantee - the end result will be a disappointment! So unless you're looking to waste your time, you need to use a guide that hands it to you on a plate.
Who is the Author of the Guide? Who's Ty Howard?
My name is Ty Howard. I've been a paid professional motivational speaker for over 17 years. I delivered and average 100 motivational presentations a year for each of those years, both nationally and internationally.
For the first four years, I spoke mainly to youth and young adult audiences. This market put me on a nationwide circuit... in and out of middle schools, high schools, colleges and universities. I am now one of the TOP motivational speakers in nation, speaking to associations, corporations, government agencies, colleges and youth. Both in terms of audience ratings and in terms of product sales.
If that doesn't speak volumes for my track record, this will... I'm the Founder, Chairman & CEO of The Baltimore Worldwide Speakers Bureau, based in Baltimore, MD. Which means, not only do I promote and book myself as a highly sought after paid professional motivational speaker... I list, promote and book 36 other quality professional speakers, trainers and facilitators worldwide.
I know my guide works! Invest in your speaking success today... purchase my guide, and I will be there with you every step of the way. From you writing the first word of your dynamic motivational speech to the thunderous applause you will soon hear from the audience after you conclude your speech.
I can hear the applause already. Can you?
You Do Not Need To Be A Professional Speech Writer...
And You Do Not Need To Be A Professional Motivational Speaker
Even if you struggle writing a grocery list and if you don't think you have a motivational bone in your body, you can still create powerful, dynamic speeches by using the "How to Write and Present Powerful, Dynamic Motivational Speeches Guide.
It really couldn't be any easier... it's virtually as if I were actually coming over to your place to literally sit down and write - design - layout - edit and coach you myself!
You'll have everything you could imagine at your fingertips to make producing your dynamic motivational speech.
How Will You Use The "How to Write and Present Powerful, Dynamic Motivational Speeches" Guide
To Create Your Own Dynamic Motivational Speech Presentation Experience?
You will learn:

How to construct a motivational speech that focuses on the needs of an audience.
A practical and easy-to-follow method on how to design dynamic, memorable speeches.
How to communicate your points and transitions clearly and concisely.
How to tell terrific anecdotes and stories that captivate, enlighten and retain the audience.
How to speak and present with or without notes.
How to effectively use props, music and PowerPoint to enhance your presentations.
How to avoid 6 mistakes most novice speakers or presenters make.
How to overcome your fears, nervousness and anxieties of speaking.
What to do before and when you arrive at your presentation site.
Most importantly: how to make speaking and presenting—a FUN experience!
Whether you're a business professional, trainer, consultant, sales professional, student, retiree, stay-at-home parent or an individual seeking to put your life's story into a dynamic motivational speech; "How to Write and Present Powerful, Dynamic Motivational Speeches" is a safe, practical, FUN and non-threatening way to plan, write, rehearse and present—immediately.
Okay Ty... Stop Right There!
How About Telling Me The Cost Of This
Remarkable Guide?
Well first please understand that this guide alone could easily sell for $50.00 or more easily. In fact if you asked a professional motivational speaker, like myself, to produce several hundred professionally written guides like this, you'd be charged in the neighborhood of $2,000.00 to $10,000.00, not including royalties.
(I currently charge a minimum of $1,250.00 per business article I write -- and that's for a pretty brief article). So at a bare bones minimum you're getting thousands-and-thousands of dollars worth of powerfully written T.I.P.S. (Techniques, Ideas, Principles and Strategies) at your disposal.
But I'm not going to charge you anywhere near that amount or even my minimum article price. In fact, your total investment for my "How To Write and Present Powerful, Dynamic Motivational Speeches Guide" is just $17.95. The applause you'll earn, the life's you'll impact, or just the plain goodwill that you'll create as a result of caring more than enough to bring an audience a motivational message that is both powerful and dynamic is worth your investment today.
So where's the catch? Why am I practically giving this guide away?
Well, it's really quite simple. Since my staff will fulfill your order by either e-mailing (in a .PDF file) or faxing your guide to you, I have no inventory and no fulfillment costs. I don't need to pay anyone to take the orders over the phone (though, you are welcome to call me at 443-982-7582, to rest assured that I am a real person). I don't have any large capital or building costs. So this way I can pass along my cost savings to you. So, you win and I win.
Save $5.00 Additional Dollars When You Order by
Saturday, September 30th, 2017

I originally started to put together this guide as a personal resource to use whenever I sat down to write a dynamic motivational speech for a client or my own public seminar. This guide was built up from ten years practical experience of presenting powerful, dynamic motivational speeches worldwide. In fact, I really wasn't planning on making this available until a fellow professional motivational speaker pleaded, "I gotta have a copy!"
And it's true; this is the kind of resource I would have killed for when I was just starting out. But it's yours absolutely at a steal if you act quickly for only $12.95.
This Special Guide Makes Writing
Powerful, Dynamic Motivational Speeches A Snap!
100% Money Back Risk-Free Guarantee:
Your success in using this powerful guide is completely guaranteed. In fact, here's my famous Ty Howard 100% Money Back Guarantee:
I personally guarantee that if you make an honest effort to plan, research, write, construct, rehearse and present (at least one motivational speech to a live audience using my guide), you will see and experience an awesome return.
You have 30 days, one (1) complete month, to prove to yourself that your newly purchased guide works. But if you aren't 100% satisfied, let me know and I'll issue you an immediate, no-hassle refund within four (4) business days.
That's my 30 Days Money Back Guarantee.
That means you can try out the guide at my risk, while you see if the guide works for you or not. And if they don't produce, I honestly want you to ask for your money back.
There is absolutely no risk, whatsoever on your part. The burden to deliver is entirely on me. If you don't meet your objective of writing and presenting a powerful, dynamic motivational speech or speeches or whatever your goal is from using my guide, then I've failed, not you.
Look at it this way -- $12.95 is really a painless drop in the bucket compared to the time and money you're going to waste on trying to figure out and develop your own dynamic, motivational speech from scratch. That's why...
You Really Can't Afford To Waste Another Minute Without
The "How To Write and Deliver Powerful, Dynamic Motivational Speeches" Guide!
Get ready to connect with and propel an audience to take necessary steps of action for future success. Get ready to be in front of an audience presenting like the professional motivational speakers of the world. And get ready to have fun by giving yourself away through showing an audience how much you truly care about their future.
Why not get off to a flying start by ordering your guide right now, right away?

Sincerely,
Ty Howard
P.S.
Just think! You'll never again suffer through the pain and hassle of trying to waste unheard of time researching the right way to write, rehearse and present a dynamic, motivational speech.
P.S.S.
Make sure you order your guide today. Why? In 30 days from today's date, the price for my guide may be increasing, due to the increased number of orders we've received over the past six months.